Cabernet Sauvignon Wine Barrel Aged Coffee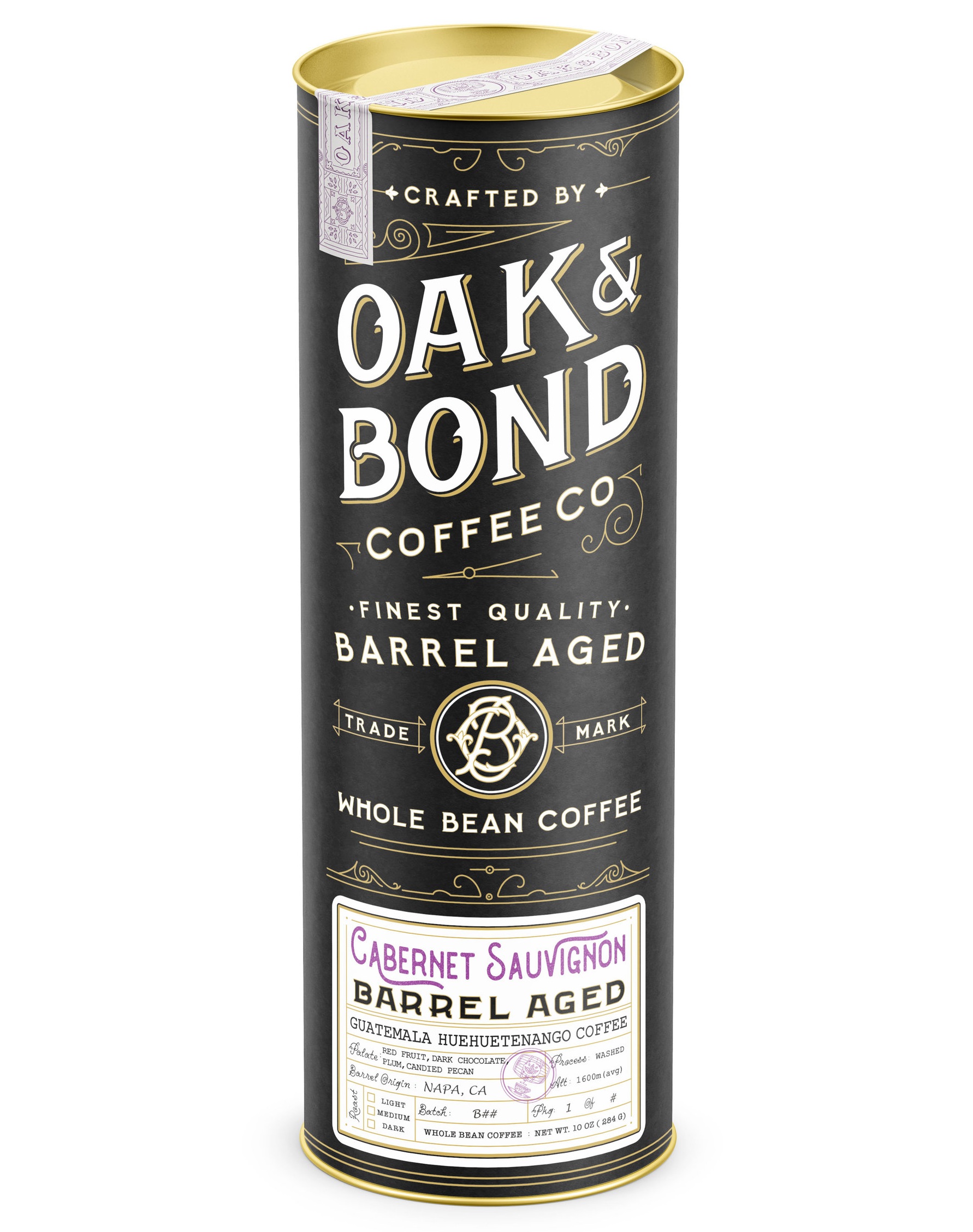 Cabernet Sauvignon Wine Barrel Aged Coffee
Cabernet Sauvignon Wine Barrel Aged Guatemala Coffee
Palate: Red Fruit, Dark Chocolate, Plum, Candied Pecan
Roast: Medium
Coffee Origin: Guatemala Huehuetenango
Process: Washed
Altitude (masl) ~1700
Barrel Origin: Napa, California
Net Wt. 10 oz (284 g)
Whole Bean Coffee
Taste Profile: The Savory Red Fruit flavors of the once used Cabernet Sauvignon Wine Barrel is combined with the Luscious Dark Chocolate, Plum, and Candied Pecan Flavors of our Guatemala Huehuetenango Coffee. This sweet, smooth, and rich taste profile is one which we know you will enjoy.
Single Origin Coffee: Our 100% Arabica, Guatemala Huehuetenango coffee beans have been sourced from the finest coffee farms in Guatemala. This coffee has been grown professionally from the farm for generations, which is evident in high quality taste and high rating of our Oak & Bond coffee.
Cabernet Sauvignon Wine Barrel: All of the Wine Barrels we age our coffee beans in have selected from the Napa, California wineries known to offer some of the worlds best wines.
Roast Level: Our Cabernet Sauvignon Barrel Aged coffee line is expertly roasted to a Medium roast level to accentuate the bright flavors in the Guatemala Huehuetenango Coffee beans.
Freshness: Our Cabernet Sauvignon Barrel Aged coffee is first packaged in a gold stamped Valve coffee bag to ensure absolute freshness in every bag.
Every Oak & Bond coffee is hand-crafted with pure dedication and passion to provide the very best cup for your enjoyment.
Coffee Sourcing: The best coffee is often found in the world's most remote locations. At Oak & Bond, we pride ourselves in the ability to source the most delicious coffees from all around world. Our goal remains, share our passion for sourcing the highest quality coffee with you!
Barrel Aging: We continually sample and cup coffee during the entire barrel aging process. Since every barrel ages beans differently, our rigorous quality control of our barrel aging process allows us to hand craft a perfectly aged bean and best quality barrel aged coffee.
Elegant Design: In addition to the phenomenal taste profiles of our barrel aged coffees, we went the extra mile in rigorously designing a package that is beautifully unique. We place our gold stamped valve coffee bag in our elegant decorative canister which you can be proud to display on your whisk(e)y, wine, or coffee bar alike!
Join the Oak & Bond Family: At Oak & Bond, coffee is our passion. Whether Oak & Bond barrel aged coffee is your rich, sweet spark in the morning, or it's your perfect pairing with a cocktail in the evening by enjoying in your favorite whisk(e)y rocks glass, wine glass, or coffee cup, Oak & Bond delivers a taste experience we know you will enjoy. Join the Oak & Bond family today!